$23,000 Worth of Amazon Attribution Data
Dec 16, 2022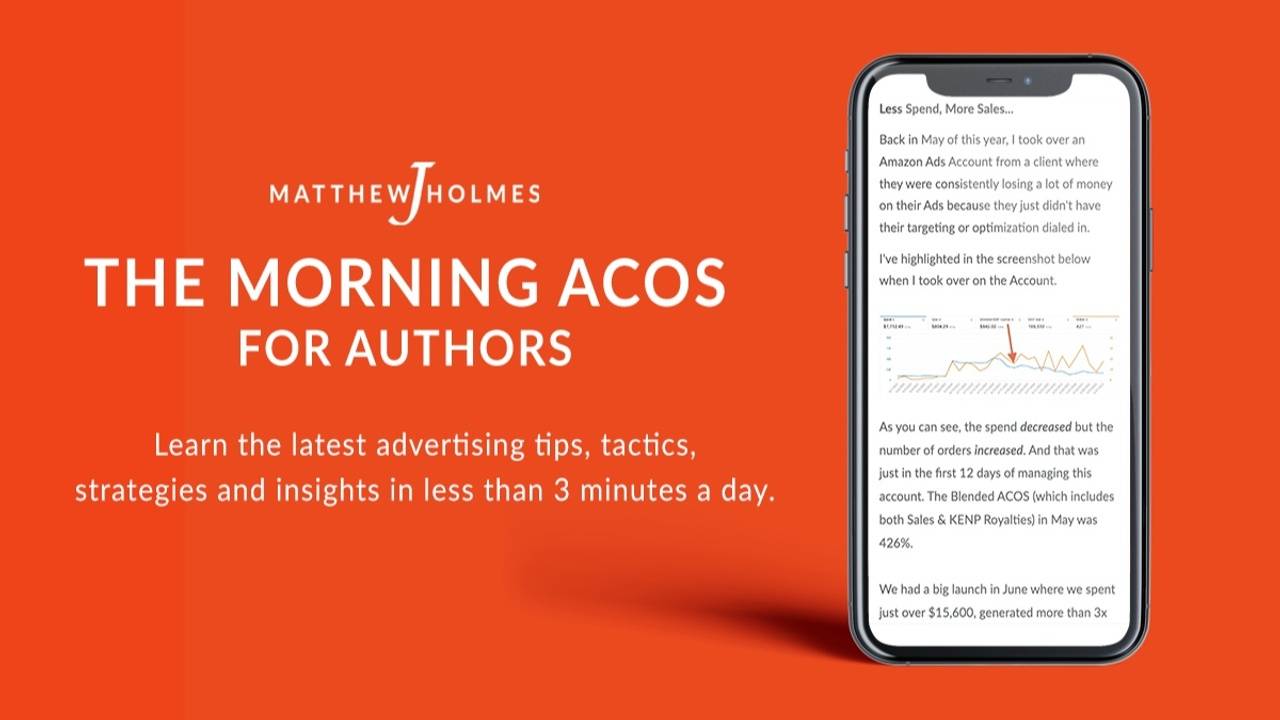 Hey,
After spending just over $23,000 (£18,800) on Facebook Ads since October 3rd, when I started using Amazon Attribution links to track the results of my Ads, I've gleaned a few more insights and accurate data points I'd like to share with you today.



Without further ado then, let's dive into it...

#1: Accurate Sales Data
Initially, I was seeing it take around 24-36 hours for the data in Amazon Attribution to be stable and accurate... or so I thought!

However, now I've spent more time analyzing the data, it's looking like it's in fact taking around 3-4 days for the data to fully stabilize.

Sure, most book sales are being attributed within 24-36 hours, but after looking at things a little more closely, I am definitely seeing more sales being attributed to the Facebook Ads 3-4 days after the sales actually happen.

For example, sales that happened on 10th December, may not be attributed until December 14th.

But that's just book sales (e.g. a $2.99 purchase of a book). Page Reads are a different kettle of fish...

#2: Accurate Page Reads Data
This was always going to be a little slower than book sales, purely down to the nature of reader behaviour.

Personally, I'm seeing it take anywhere from 4-6 days for the page reads data to stabilize, on average.

Someone may borrow your book as part of their Kindle Unlimited (KU) subscription, but won't necessarily start reading it immediately. It could take them a few days before they decide to actually pick up their Kindle and start turning the pages.

It's not until that point that you, as the author, begin getting paid for those page reads.

There's a 14 day attribution window with Amazon Attribution to keep in mind too.

So, if someone starts reading your book 15 days after they clicked on your Facebook Ad and borrowed your book, none of those page reads will be attributed to your Facebook Ads in your Amazon Attribution dashboard.

However, these page reads will still be attributed in your KDP Dashboard and you will still be paid for them.

When analyzing your page read data in Amazon Attribution, you may in fact want to look back at 14 days worth of data to take the full Attribution window into account and get a more stable and accurate representation of how things are performing (although the previous 4-6 days worth of page read data will likely be incomplete).

#3: A Different Optimization and Tracking Schedule
Due to my insights above, I'm still working on the perfect schedule and routine for optimizing and tracking my Facebook Ads.

It's safe to say though, that looking at the previous 7 days worth of data won't be totally accurate.

So, what I'm currently doing is when looking at the last 7 days worth of data, for example, I'm excluding the previous 2 days, because that data won't be stable. I'm therefore just looking at 5 days worth of data rather than 7; but at least that data is stable.

Once I find a good rhythm and cadence for managing my Facebook Ads and a routine I feel comfortable with, I'll certainly be sharing it with you :)

Wrapping Up...
Whenever a new tool becomes available, it's always going to take some time to figure out how to get the most out of it and work it into your system.

And over time, Amazon Attribution, which is currently still in Beta, I'm sure, will improve.

And who knows, maybe, just maybe, we'll see stable data much quicker, with sales, possibly page reads, being attributed to our Facebook Ads (and other forms of off-Amazon marketing) in a shorter period of time - which will change our workflow again!

That's it for today. I hope you've enjoyed this little Amazon Attribution update.
To Your Success
– Matt





THE SATURDAY SELF-PUBLISHED AUTHOR NEWSLETTER
Get 1 actionable Facebook Ads tip to help you reach more readers and sell more books, every Saturday (you'll also learn a thing or two about running a six-figure author business).
I'll also send you my Facebook Ads For Authors Masterclass (for FREE) as soon as you sign up.
This FREE three-day video course will show you how Facebook Ads actually work (it's not what you think), how to create and test Facebook Ads that drive book sales and I'll also reveal my unique Facebook Ads Strategy. Sign up for FREE below.