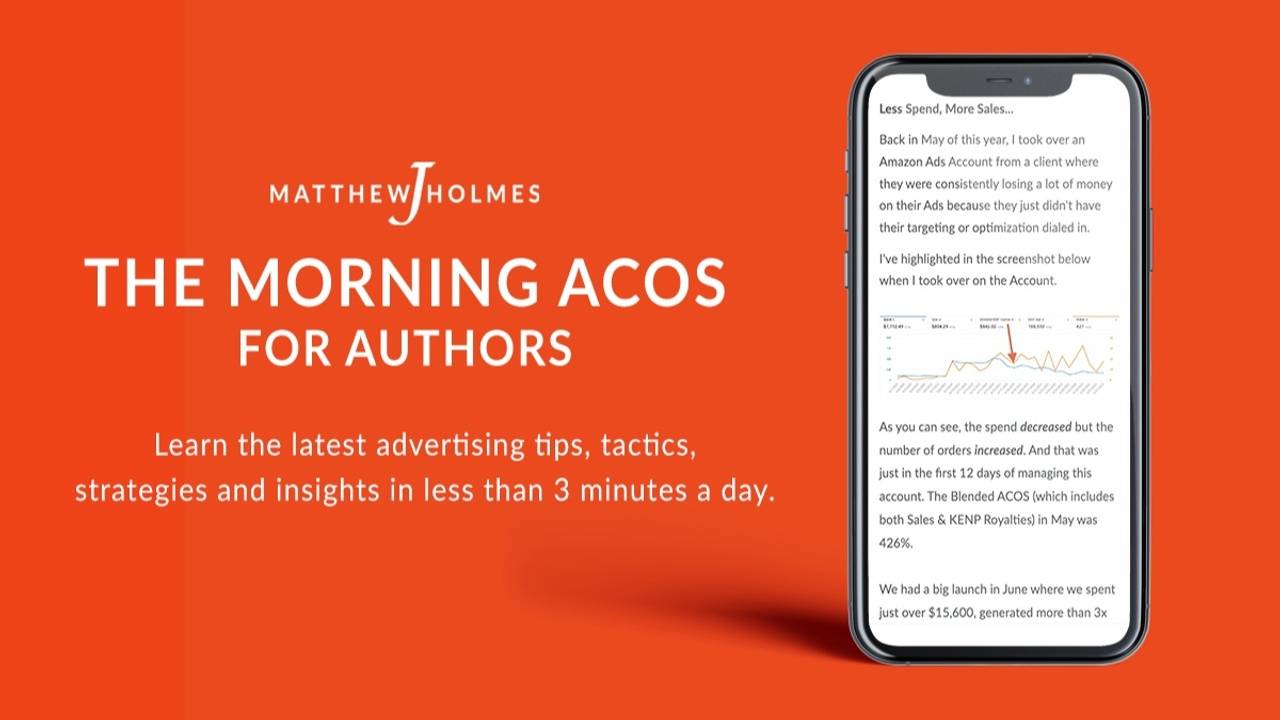 A Case For Amazon Ads Negative Targeting
Hey,

Once your Amazon Ads have started collecting data, what has worked for me (and for Authors inside Jumpstart Amazon Ads) is optimizing campaigns once per week.

Part of that optimization process is Negative Targeting.

Amazon will, one way or another, show your Ads for irrelevant search terms and ASINs.

Yes, Amazon has built an immensely powerful algorithm for its Ads platform, but it's not perfect and you can't escape its inefficiencies, but you can finesse it by reducing your wasted ad spend and training the algorithm, through the use of negative targeting.

With Amazon Ads, you have the option to negate:

- Keywords
- ASINs (individual books)

Keywords are what you bid on and Search Terms are what readers search for on Amazon that triggers your Keywords and in turn, your Amazon Ads are shown to those readers.

However, how relevant the Search Terms are to your chosen Keywords is something that takes time to refine.

If you don't want your Ads to show for a particular Search Term or ASIN, you add it as a Negative Target.

I've seen a lot of Amazon Ads Accounts in my time, and unfortunately, many authors aren't making full use of Negative Targeting and are therefore wasting money showing Ads to readers who, according to the data, just aren't interested in their books.

And that's fine; you're not trying to write books to please every reader on the planet.

Sometimes, you just know by looking at a Search Term or ASIN in your Account that it's irrelevant to your advertised book(s).

Other times, you may think a Search Term or ASIN is relevant when you first see them, but they keep generating clicks, costing you money, and never making any sales. What do you do with these gremlins?

You add them as a Negative Target.

That way, Amazon will stop spending money on them, meaning your budget can be spent on targets that are actually converting.

Personally, I like to see 10-15 clicks, but 0 sales or page reads, on a relevant Search Term or ASIN before I negate it; any less than that and for me, it's not statistically significant data.

The bottom line is, if you're paying for clicks on targets that aren't converting, this is eating into your profit.

Optimization, which includes Negative Targeting, amongst other tasks, doesn't need to be time-consuming or complicated.

I spend around 60 minutes per week, sometimes less, optimizing my Amazon Ads. That's it.

If you're looking for a system to follow for your Amazon Ads, that walks you through the campaigns to set up, how to set them up to run efficiently, and ultimately, how to reduce your wasted ad spend, but also scale up what's working, all within 60-90 minutes per week...

I lay it all out inside Jumpstart Amazon Ads For Authors.

To Your Success
- Matt
Whenever you're ready to conquer advertising for your books, there are 3 ways I can help:
1. Jumpstart Amazon Ads → Discover the exact system I use to sell 100's of books every month with Amazon Ads, in just 60-90 minutes per week.
2. Jumpstart Facebook Ads → The exact blueprint I've used to go from spending $10 per day to $250+ per day on Facebook Ads with a 2-3x return on investment.
3. To receive short, daily tips, tricks and ideas, follow me on Twitter, where I post a few author advertising insights each day.
READ PREVIOUS EDITIONS OF THE MORNING ACOS
GET YOUR DAILY DOSE OF AUTHOR ADVERTISING TIPS, STRATEGIES AND TACTICS
Join over 1,900 authors inside The Morning ACOS, receiving one actionable advertising tip, strategy, tactic or insight to help you sell more books each and every day.