Ads and Promo Sites Combo
Nov 16, 2022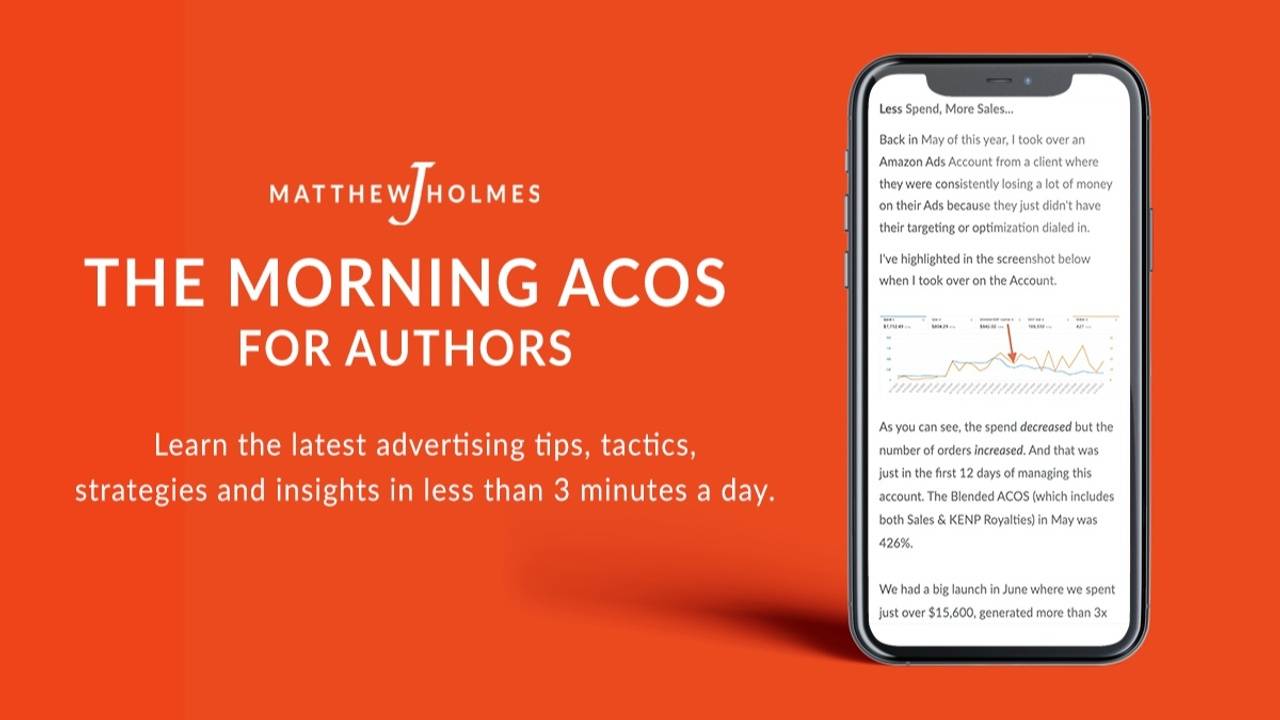 Hey,
If you have an upcoming book launch or promotion when it comes to Ads, where do you start? And what about Promo Sites; where do they fit in?

Today, I'm going to share how I use a combination of Ads and Promo Sites for book launches and promotions.

Typically, I run launches or promos for 7 days, so that's what I'm going to base today's content around. For you, a 14-30 day launch or promo may be your go-to strategy, and that's totally ok; just adapt what I share for your specific situation.

The Ads
For me, when it's time to launch a new book or run a promotion of some kind, I like to use proven Ads; it's not a time for testing new ideas.

That's why I ONLY use proven Ad Creative and proven Audiences and Targeting with my Ads during these events.

The only exception to this is BookBub Ads, where, unless the book I'm advertising is permanently free or $0.99, I can't do any testing before a launch or promo, because BookBub Ads just don't perform well with full-price books. So, I have no option but to test during the launch or promo period.

Facebook Ads and Amazon Ads, however, are running all year round, so I have plenty of data (and time) to figure out what does and doesn't work, then double down on that for the launch or promo.

The way I like to plan out launches and promos is to start the week with a modest budget and put the majority of it (80% or more) behind Book 1 of the relevant series and around 20% of the budget on the new release in that series.

Sounds a bit backwards, right?

Well, yes, I suppose it is! But with good reason!

Depending on your specific series, it may be that people need to start reading at Book 1; it wouldn't make sense if they started with Book 3 or 4.

I only advertise the new release on Facebook Ads to a warm audience (i.e. people who are already aware of the books, the author, etc.) and also add the new release to existing Amazon Ads campaigns.

I then increase spending on each of the Ads platforms once per day, by around 20%-30%, which is fairly aggressive, but it's only for 1 week and I want to maximize the visibility of the advertised book.

And on the final 2 days of the launch or promo, I increase the budget by 40%-50%. This is an even bigger jump, but the reason for it is this...

I want to finish the launch or promo with the highest bestseller rank possible so that when the book switches back to full price, we get a few days of increased full-price sales and additional borrows due to the enhanced visibility.

All this spending on Book 1 is bringing the series more and more attention and over time, a good percentage of those people will go on to buy or borrow the remaining books in the series.

But Book 1 is where they start, hooks them in and allows them the opportunity to get a taste of the story, hopefully, get hooked and want to continue reading.

The Promo Sites
As with the Ads, I focus all the Promo Sites on pushing Book 1 of the series, as this is the lead-in and is what will make readers want to continue with the series.

Now, if you haven't heard of Promo Sites, in short...

Promo Sites have built up huge email lists of readers (often 10's or 100's of thousands of people) and each day, they send an email to their subscribers with several books that are usually on sale or free, either permanently or for a limited time.

As an author, you pay these Promo Sites for a placement on their email, which will include:

– An image of your book cover
– The title and subtitle of your book
– A short description of your book
– The special price of your book
– And a link to where readers can buy your book

The costs for Promo Sites vary from free all the way up to a few hundred dollars in some cases. Typically though, you're looking at between $5 and $50 per Promo Site.

Naturally, the quality of Promo Sites varies a LOT, so I've put together a list of the Promo Sites I've seen the best results from here: Check out the Promo Sites

Many of these Promo Sites get booked up a few weeks, even months in advance, so it pays to be organized with your launches and promos.

Here's how I like to book Promo Sites for a launch or promo:

– Day 1: 1-2 Promo Sites
– Day 2: 1-2 Promo Sites
– Day 3: 2-3 Promo Sites
– Day 4: 2-3 Promo Sites
– Day 5: 3-4 Promo Sites
– Day 6: 4-5 Promo Sites
– Day 7: 5-6 Promo Sites

You can see from the above that I use anywhere from 18-25 Promo Sites during a launch or promo, with most of them booked for the final few days of the event. And I gradually increase the number of Promo Sites I'm using so as not to spike Amazon with too many sales; it looks more natural and organic in the way I've laid out above.

This approach helps give the book an extra big push before it jumps back to full price and we can leave the launch or promo on the highest possible bestseller rank.

Clearly, 18-25 Promo Sites will cost a few hundred dollars, which may not be an option for you.

In this case, I would recommend booking 4-6 Promo Sites for the final 2 days of your launch or promo and exit on a high.

Ultimately, combining Ads and Promo Sites together for a launch or promo will do wonders for sales, visibility, new readers, reviews and ratings, and help build a solid foundation for better-performing Ads moving forwards.
To Your Success
– Matt




THE SATURDAY SELF-PUBLISHED AUTHOR NEWSLETTER
Get 1 actionable Facebook Ads tip to help you reach more readers and sell more books, every Saturday (you'll also learn a thing or two about running a six-figure author business).
I'll also send you my Facebook Ads For Authors Masterclass (for FREE) as soon as you sign up.
This FREE three-day video course will show you how Facebook Ads actually work (it's not what you think), how to create and test Facebook Ads that drive book sales and I'll also reveal my unique Facebook Ads Strategy. Sign up for FREE below.