Don't Forget About Your Backlist
Dec 13, 2022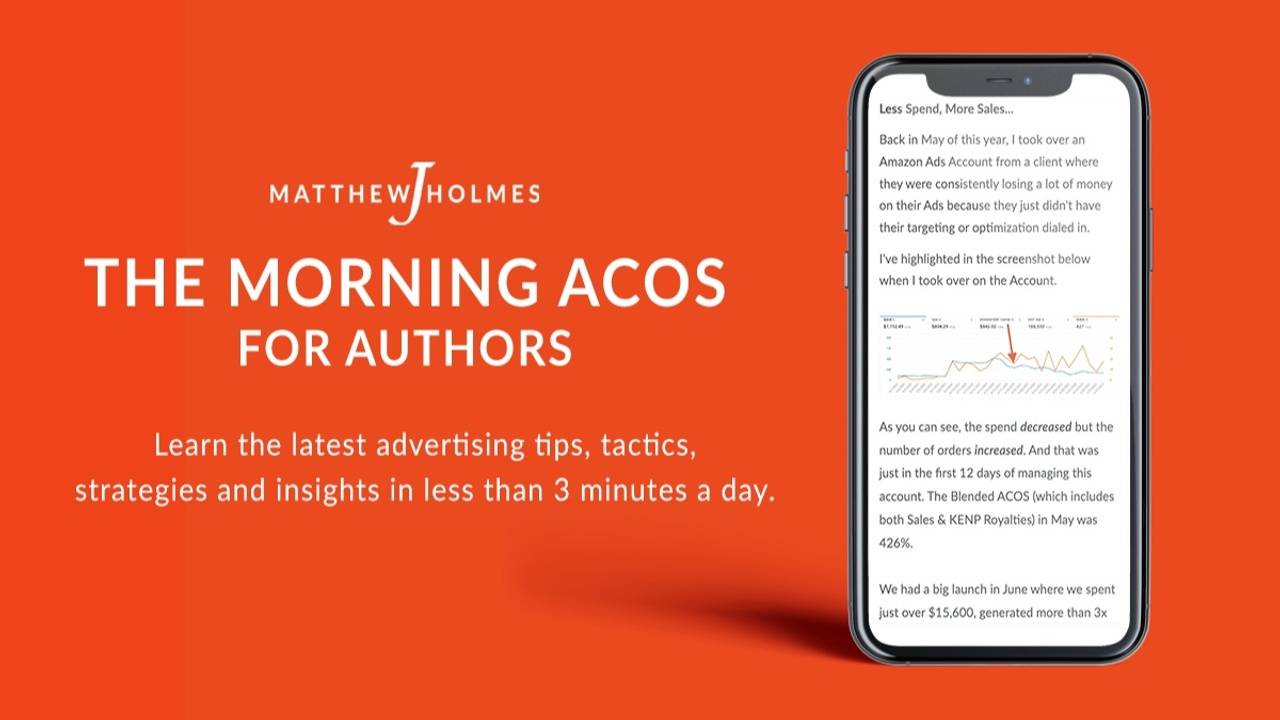 Hey,


When you've been writing and publishing books for some time, you'll start to build up a backlist; books that are in your catalog, but aren't your latest releases.

Unfortunately, books in your backlist are prone to being forgotten about and all the focus, attention and budget goes towards your newest release.

If this sounds like you, it needs to change.

The reason?

You're missing out on a lot of earning potential, as well as the ability to get more of your books into the hands of readers.

Clearly, not every single book you've ever written is going to be a bestseller.

However, even a little bit of focus and attention on a select few books in your backlist can lead to more book sales, loyal readers and read-through to other books in your backlist (even books that you're not even actively promoting).

So, how do you revive your backlist?

Here's my advice...

– Look back on which books in your backlist have performed well historically and start there

– Review your book descriptions and re-write accordingly

– Review your book covers and update if necessary (and you have the budget to do so)

– Proofread your manuscript(s) – it's amazing what you pick up when you haven't read your own work for an extended period of time!

– Read the reviews and make any changes to the manuscript (that you agree with) that readers have mentioned

– (Optional) Add some A+ Content to the book product pages to help with conversions

– Drop the prices of the books you're going to be pushing (for up to 30 days) to get some initial traction and improve the bestseller rank

– Start driving traffic to the books with Facebook Ads (best option if the books are ranked above 100,000 in the Kindle/Books Store

– Get involved in some Group Promos on sites such as Story Origin, and BookFunnel

– Email your list and let them know about the books in your backlist that are "on sale"

– Add books in your backlist to the bottom of every email you send

If you've written in a series, Book 1 of that series will be getting the most eyeballs on it (once you start pushing it), so that's where your attention should be.

That doesn't mean to say that you should forget about the other books in a series; you need strong read-through to make your backlist work harder for you.

You don't need to advertise every book

Clearly, you shouldn't be advertising every single book you've ever written; if you've heard of the 80/20 Rule or Pareto's Principle, you'll understand why. Essentially, on average, around 20% of your books will be generating 80% of your royalties (something I recently wrote about on Twitter).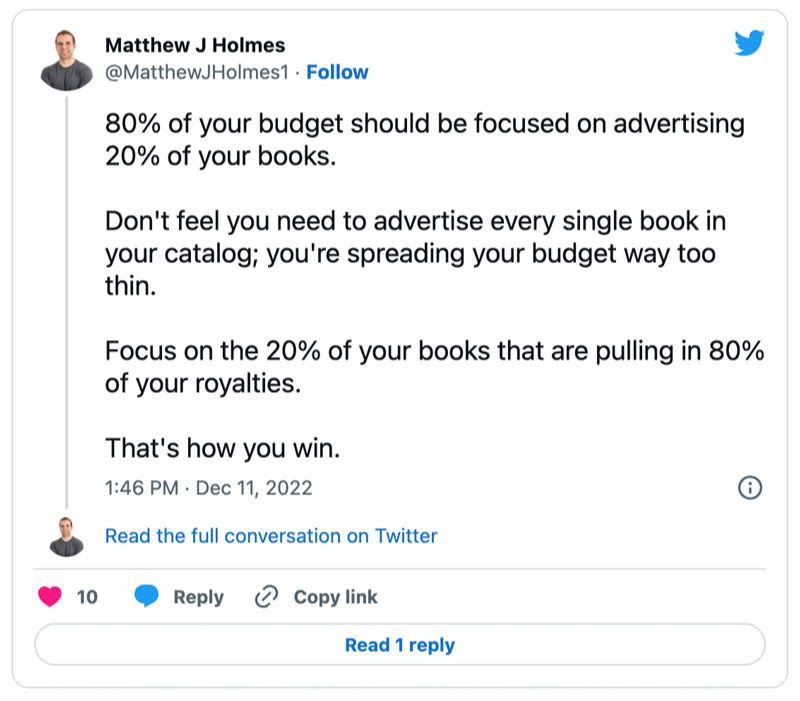 So, you need to find that 20%, which you can only do by looking back at historical data, combined with real-world testing in today's marketplace.

What worked well 2 years ago may not necessarily work as well today. This is why you need to test with real-word, up to date data.

Backlist marketing and advertising is a BIG topic to explore and is something I'll be diving much deeper into during 2023.

Hopefully, today's newsletter has got you thinking about different ways you could revive some of the books in your backlist and let them see the light of day again.
To Your Success
– Matt
THE SATURDAY SELF-PUBLISHED AUTHOR NEWSLETTER
Get 1 actionable Facebook Ads tip to help you reach more readers and sell more books, every Saturday (you'll also learn a thing or two about running a six-figure author business).
I'll also send you my Facebook Ads For Authors Masterclass (for FREE) as soon as you sign up.
This FREE three-day video course will show you how Facebook Ads actually work (it's not what you think), how to create and test Facebook Ads that drive book sales and I'll also reveal my unique Facebook Ads Strategy. Sign up for FREE below.