Playing The Long Game As A Self-Published Author
Nov 08, 2022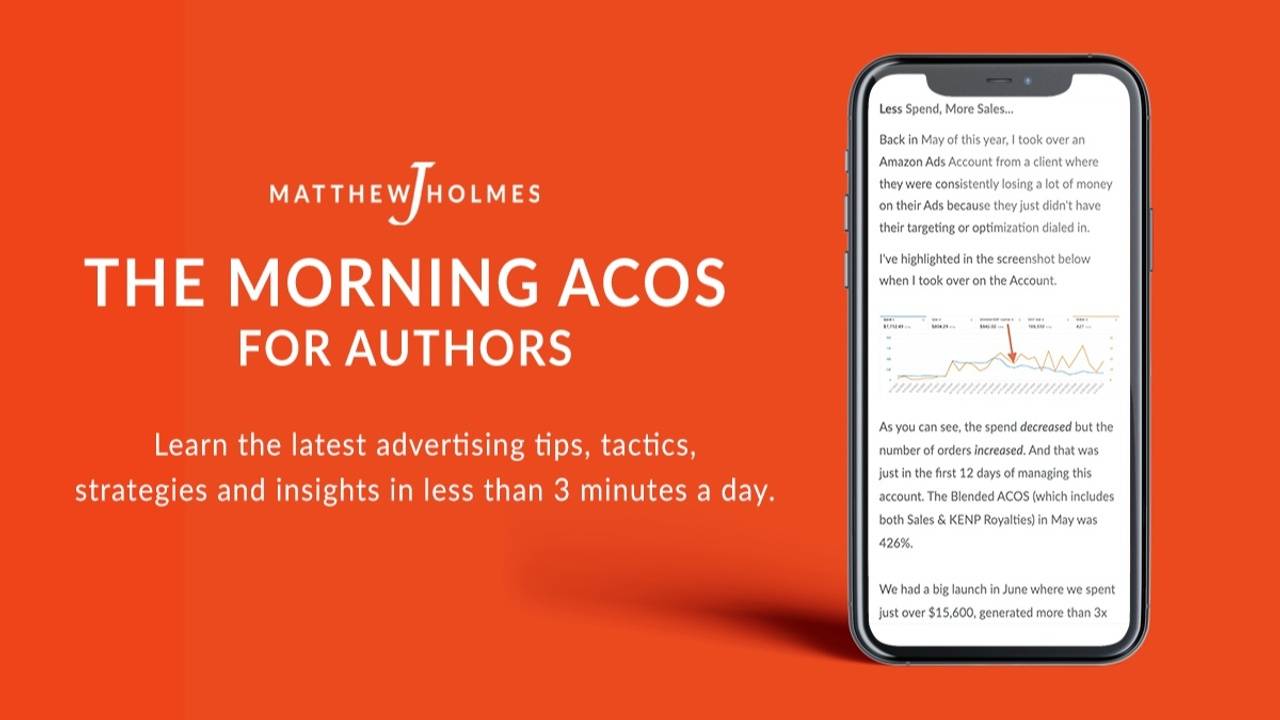 Hey,

I talk about playing the long game pretty often inside The Morning ACOS, and that's because it really is so important.

Looking at the day-to-day performance of your key metrics is helpful, yes, but, what you should really be paying attention to is the performance over an extended period of time.

And also make sure you're not looking at your Ads inside of a vacuum; look at the bigger picture:

– Total Royalties
– Total Orders
– Total Page Reads
– Total Profit

Let's take my wife's books as an example...

You can see from the screenshot below that there is something very prevalent happening in the royalty earnings here over the past 90 days... variance.



Out of these 90 days, on the worst day, we earned $289, and on the best day, we earned $699. And all the other days, were up and down between those 2 numbers.

Now, if I had been fretting about that $289 day and not thinking long term, who knows, I may have cut off all the Ads I had running, or at least slashed the advertising budget.

But I didn't, because I know the long game is how you win in this world.

Consistency, showing up each day, week in, week out, year in, year out, is how you succeed.

I'm not saying you need to work yourself into the ground; far from it – I'm not a fan of #hustle culture, because I know from first-hand experience that this just leads to burnout and it's not fun, for you or those around you (but that's a topic for another day).

And if you have a bad day of sales, guess what... there's always tomorrow, and the day after that, and the day after that.

You have time to adapt and evolve.

Speaking of which, evolving and adapting is something you should be doing regardless. As Albert Einstein famously said:

"Insanity is doing the same thing over and over and expecting different results."

All this to say, stop focusing on the day-to-day performance of your Ads, your sales, your royalties, and instead look at your stats over an extended period of time.

I like looking at things over the course of 30 days; this is long enough to identify trends and patterns, but short enough to not be overwhelmed with too much data.

Before I wrap this email up, you may notice from the screenshot above that since around October 3rd, royalties have increased quite considerably.

The reason for this... Amazon Attribution.

Since October 3rd, I've been using Amazon Attribution links to track how each Facebook Ad I'm running is performing (i.e. how many orders and page reads they are generating).

If you're yet to set up Amazon Attribution with your Facebook Ads, I have a video (taken directly from my course, Jumpstart Facebook Ads), that walks you through, step-by-step, how to set up these links so you can clearly see how your Facebook Ads are performing:

Watch The Amazon Attribution Setup Video

Long-Term Thinking will always beat Short-Term Thinking.


To Your Success
– Matt
THE SATURDAY SELF-PUBLISHED AUTHOR NEWSLETTER
Get 1 actionable Facebook Ads tip to help you reach more readers and sell more books, every Saturday (you'll also learn a thing or two about running a six-figure author business).
I'll also send you my Facebook Ads For Authors Masterclass (for FREE) as soon as you sign up.
This FREE three-day video course will show you how Facebook Ads actually work (it's not what you think), how to create and test Facebook Ads that drive book sales and I'll also reveal my unique Facebook Ads Strategy. Sign up for FREE below.