The 60 Minute Facebook Ads Blueprint For Authors
Learn How to Launch, Optimize and Scale Facebook Ads That Maximize Book Sales.
In less than 60 minutes per week, with my Facebook Ads Blueprint For Authors, you can reach more readers and skyrocket your book sales (without spending $1,000's in the process.)
GET INSTANT ACCESS FOR $150
"I've already seen results, only two weeks in..."
HOLLY MORTIMER
SELF-PUBLISHED AUTHOR

JUMPSTART FACEBOOK ADS FOR AUTHORS
Do You Really Need Facebook Ads?
In the beginning, I thought Facebook Ads were the worse possible route for advertising books; people don't go to Facebook to buy books. They go on there to catch up with friends and family!
How wrong I was…
Facebook Ads have, without a doubt, been THE biggest driver of sales for my wife's books.
But, it wasn't all sunshine and rainbows from Day 1 with our Facebook Ads; far from it.
I struggled with them. A lot.
All the Facebook Ads lingo
The Campaign Structure
The Targeting options
Creating scroll-stopping images
Writing engaging Ad Copy
The list goes on
I cringe when I look at back at the first Facebook Ads I ran for Lori's books.
At the same time, I smile, because I can see how far I've come when I look at the Ads I'm running today.
And that was only a matter of 3 years ago (April 2020 to be precise).
I've spent a lot of money on Facebook Ads, but we've also earned 2-3x what we've spent on them.
Sure, there was wasted Ad Spend in there, but I can, with full confidence share with you, that Facebook Ads are THE reason why my wife is a full-time author today.
Of course, writing great books that readers enjoy and all the other bits and pieces that go along with being a published author have played a big role.
In terms of generating traffic and getting eyeballs on the books though, Facebook Ads have been our biggest leverage point.
Facebook Ads can help YOU:
Drive more book sales
Generate more Page Reads
Build your audience of raving fans
I've done it with my wife's books, I've helped 100's of other self-published authors do it with their books, and now I want to help YOU do it too.
JUMPSTART FACEBOOK ADS FOR AUTHORS
Have 60 Minutes Per Week? You Can Use Facebook Ads.
Back on April 19th 2020, we launched Book 1 of my wife's series. A week later, on April 26th, we launched Book 2 of the series.
We were spending around $10 per day. And making around $15-$30 per day.
We had a long way to go if we were ever going to earn a living from Lori's books.
Fast forward a few years, and we earn $15,000+ per month in Royalties from Lori's 4 books.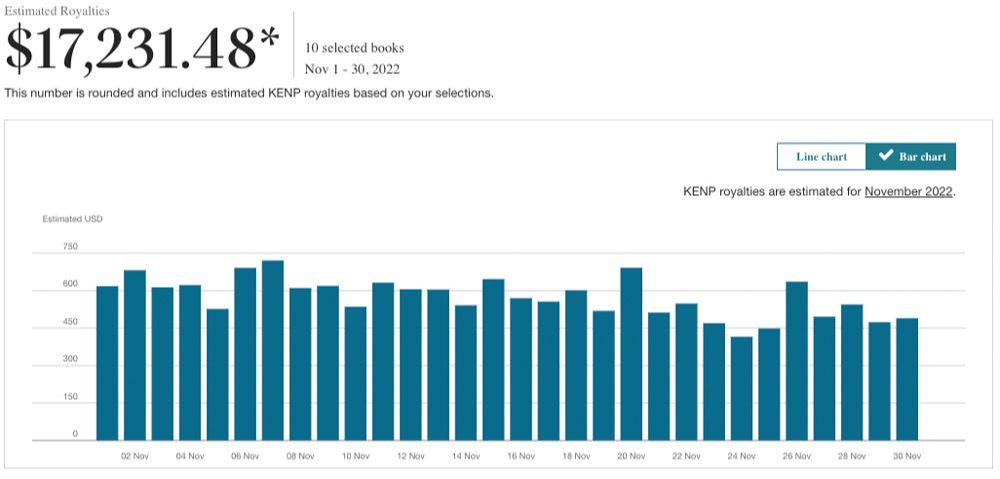 Coming back to the Facebook Ads though, even at $10 per day in Ad Spend, I was learning a LOT about what did and didn't work:
The Images
The Headlines
The Primary Text (main piece of text in a Facebook Ad)
The Targeting (who we were showing the Ads to)
And I was loving every second of it!
Perhaps a little too much though…
I would spend 2-4+ hours per day on the Facebook Ads (even at that low daily spend of $10).
And you know what…
I was "messing" with the Ads too much.
Performance began to dwindle. We were still profitable, but the profit had definitely shrunk.
This was gutting. I thought I was onto something.
So, I did EXACTLY what I tell myself and other authors NOT to do.
I went after the next shiny object.
Cutting a long story short, I came back to Facebook Ads, after our twin boys were born in June 2020, with a lot less time on my hands (wow, do babies take up a lot of time!).
I knew how powerful Facebook Ads had been in the beginning; I also knew that I had been messing with them too much previously.
So, with those factors in mind, and less time to work on the Facebook Ads, it was time for a whole new approach. An approach that delivered incredible results, but didn't require 2+ hours per day to run the Ads.
It took a few months of trial and error, but I eventually came up with such a simple, straightforward system for managing our Facebook Ads, that, more down to necessity than anything else with 6 month old twin boys in the house, took me 60 minutes per week.
This 60 minutes of focused work included:
Analyzing the data
Optimizing the Ads
Testing new ideas
Creating new images
Writing new Ad Copy
Tracking the results
It's amazing what you can achieve when you put your mind to it and remove distractions.
I cut back on anything that wasn't moving the needle for us and focused everything on what was actually working (i.e. what was driving book sales).
This was when things really started to take off with the Facebook Ads, and we started the process of scaling up our Ad Spend.
JUMPSTART FACEBOOK ADS FOR AUTHORS
Who is This Guy Who Seems A Little Obsessed With Facebook Ads?
Hey, I'm Matt,
My name's Matt Holmes and inside Jumpstart Facebook Ads For Authors, I'm going to reveal how I use Facebook Ads to drive thousands of book sales, millions of Page Reads and over $15,000 in Royalties every single month.
The system I'm going to share with you is both highly scalable AND takes less than 60 minutes per week to manage.
Look, my wife and I aren't millionaires, BUT, we have built a healthy six-figure author business with 4 books (plus 1 Companion Novel).
And it's allowed us to spend time as a family every single day, my wife to fulfil her dream of becoming a full-time author and live in our dream house in the British countryside.
A big part of our "success" (which is subjective), has been Facebook Ads. And, given the possibilites it offers, I would love to help YOU achieve your dreams, goals, aspirations as an author by using Facebook Ads to position your books in front of your ideal readers.
It feels like I'm boasting, which I'm not… but, I am willing to take that hit to ease your worries about investing in a product of mine.
I just want to show you what's possible when you put your mind to something and really commit.
GET INSTANT ACCESS FOR $150
JUMPSTART FACEBOOK ADS FOR AUTHORS
Who is This Course For?
Before I waste any more of your time, let's see if you should continue reading and whether Jumpstart Facebook Ads For Authors is something that can help YOU.
If you do not relate with at least one of the below, feel free to leave the page:
Authors who have 1 book published (or are about to publish their first book) and have an initial goal of building their readership and learning how to drive sales from Facebook Ads
Authors who have published 2 or more books, are looking to increase profit, but don't have a Facebook Ads strategy in place or a roadmap to follow
Authors who have been "burned" by Facebook Ads before, but are ready to start seeing profitable results from them
Authors who have $5-$10 per day to spend (yes, it's still possible to get results with this budget)
Authors who are able to spend $20, $30, $50 or more per day on Facebook Ads (although, you don't need to start this high)
If any of these resonate with you, Jumpstart Facebook Ads For Authors can help.
Ultimately, if marketing is never done, your books will never sell.
JUMPSTART FACEBOOK ADS FOR AUTHORS
The Blueprint
Facebook Ads is often talked about as being this big, complicated Ads platform that just takes your money and "doesn't work".
It's not.
Facebook Ads is in fact, one of the most exciting opportunities for self-published authors in the 21st century.
I know, that sounds a little extravagant.
But it's what I believe, because, for the cost of a couple of coffees from your favorite barista, you can literally send 100's of people to your book on Amazon.
Sure, not all of them will buy your book, but a percentage of them will. And the ones that don't…
Amazon knows they've visited your book product page and will continue to market your book to them.
But it all starts with Traffic.
And Facebook Ads wins hands-down, in my opinion, because they:
Deliver inexpensive traffic (typically less than $0.30 per click)
Reach a huge number of readers
Build your audience
Give readers a "taste" of your book before they buy it
Offer the opportunity to build buzz and hype around a book launch
Can be up and running for the first time within 30-60 minutes
Yes, there are a lot of options within the Facebook Ads Dashboard and it can look complicated at first glance.
But, for a start, you don't need to use 80% of what's in there.
And also, within 1-2 weeks of running your Facebook Ads, you'll know exactly how to launch and manage your Facebook Ads.
My approach to Facebook Ads is a little different to what you may have come across before.
I call it…
The 60 Minute Facebook Ads Blueprint For Authors
I focus on the 80/20 (the 20% of "things" that deliver 80% of the "results").
Not just that, I have my own way of testing and scaling Audiences and Ad Creative.
And I do it all in under 60 minutes per week.
The 60 Minute Facebook Ads Blueprint For Authors is how you get better results from your Facebook Ads, by doing less. It's about finding what works, doubling down on it and ignoring the rest.
JUMPSTART FACEBOOK ADS FOR AUTHORS
From Facebook Ads Overwhelm To Facebook Ads Clarity.
Many authors shy away from Facebook Ads because they've either been burned before or are just too overwhelmed to learn them.
It's time to embrace Facebook Ads and start selling more books.
Introducing Jumpstart Facebook Ads For Authors.
A practical approach to running profitable Facebook Ads in just 60 minutes per week.
Instead of panicking about how much you've spent on Facebook Ads, getting lost in the Ads Dashboard, worrying about the wasted Ad spend you're throwing down the drain, or confused about how to "optimize" your Campaigns, wouldn't you rather be:
Implementing a proven Facebook Ads system, tailored to your books
Selling books day in, day out, at a rate you never dreamt was possible
Know your way around the Ads dashboard like the back of your hand
Understand the key metrics and know which Ads are driving sales and page reads and which aren't
Here's what you'll receive when you enroll in Jumpstart Facebook Ads For Authors:
JUMPSTART FACEBOOK ADS FOR AUTHORS
BONUS LESSONS
I'm also sharing THREE Bonus Lessons with you…
My 1 x 4 x 1 Scaling Strategy
I'll share my unconventional, but powerful, Facebook Ads scaling strategy with you and walk you through the entire setup, step-by-step.
A Guide To Lookalike Audiences
Facebook Lookalike Audiences can perform exceptionally well and sell a LOT of books. I'll show you how to create your own Lookalike Audiences.
Dynamic Creative Setup Guide
Dynamic Creative lets you test a bunch of ideas quickly whilst Facebook does all the heavy lifting. I'll walk you through how to setup your Dynamic Creative Ads.
JUMPSTART FACEBOOK ADS FOR AUTHORS
UNLOCK THE JUMPSTART SYSTEM TODAY
Jumpstart Facebook Ads
$150
A Single Payment Today
The exact campaigns and system I use on a daily basis
Discover how I launch, optimize and scale Facebook Ads
Comprehensive tracking sheet included
3 x Bonus Lessons (more to come)
All future updates at no additional cost to you
Lifetime Access
GET INSTANT ACCESS
Jumpstart Facebook Ads
$35/month
Spread payments over 5 months
The exact campaigns and system I use on a daily basis
Discover how I launch, optimize and scale Facebook Ads
Comprehensive tracking sheet included
3 x Bonus Lessons (more to come)
All future updates at no additional cost to you
Lifetime Access
GET INSTANT ACCESS
SATISFACTION GUARANTEE
I'm confident you will LOVE Jumpstart Facebook Ads For Authors. However, if you invest in the course and don't like it, simply let me know and I'll refund you within 14 days of purchase. Historically, my refund rate has been less than half a percent.
I want you to succeed and I know that if you take action and implement what I share with you and really put your heart and soul into this, you WILL succeed and see AMAZING results.
JUMPSTART FACEBOOK ADS FOR AUTHORS
Frequently Asked Questions
Is this course suitable for fiction and non-fiction authors?
I only have one book published. Will Facebook Ads work for me?
How much do I need to spend on Facebook Ads each month?
I'm brand new to Facebook Ads. Is this course right for me?
I already have Facebook Ads up and running. Is Jumpstart Facebook Ads right for me?
Most courses are $300, $500, $700! What's the deal here?
How quickly will I start making sales?
Will there be any updates to this course?
Is there a money-back guarantee with Jumpstart Facebook Ads?